Reusable Moisture Wicking Anti Viral-Anti Bacterial Black Face Mask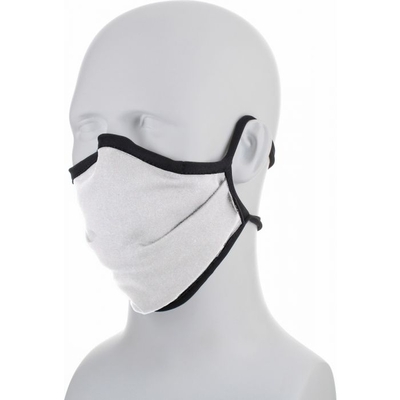 Description
Outfitter Face Mask with Polartec® Power-Stretch Lining - Adjustable & Washable
Product Number: 108MX
Breathable & Comfortable for long-term wearing
Moisture Wicking to reduce bacteria throughout
Adjustable Straps with Toggles for Secure Fit and Protection
Form Fit Nose Bridge to Prevent Glasses from Fogging
Fits Adults & Youth
Reusable - wash in cold water every 40-hours of wearing time
Double-layered for 2x Protection
Polartec® Power-Stretch Interior Lining
Made in Mexico
These are non-returnable, all sales are final.
Antimicrobial
The outer layer is comprised of a tightly woven cotton twill for solid protection without overheating. The inner layer is treated with antimicrobial protective agents that act against all types of microorganisms including:
Bacteria (Anti Bacterial)
Viruses (AntiViral)
Fungi (AntiFungal)
Protozoa (AntiProtozoal)
Specifically it can reduce the COVID-19 coronavirus in the mask material by over 99%. It also prevents bacteria from growing on the inside of the mask.
This protection is woven into the fabric (not sprayed on) to give long-lasting protection. In a laboratory test, it withstood a 20-wash test with no degradation in antimicrobial infectivity. In other words, even after the material was washed 20 times it still had the same 99% virus reduction power.
Adjustable (Fits Adults & Youth)
The mask is designed to be comfortable for long-term wear and breathing. It has two adjustable straps for head and neck and fits under your chin for maximum coverage. The upper straps may be worn above or below the ears.
It has a form-fitting Nose Piece to achieve a very close facial fit and very efficient filtration of airborne particles. This also prevents your glasses from fogging up.
Reusable
This is a high-quality mask both in material and construction.
Wash every 40 hours of Wear Time. Examples:
If I wear the mask 5 hours a day, I wash the mask at the end of day 8
If I wear the mask 10 hours a week, I wash the mask at the end of week 10
Can be machined wash in cold water and tumbled dry on low heat. Do not iron. Do not use bleach.
Reviews
---